Organiser
Alzheimer's Disease International
Location
Alzheimer's Disease International
57A Great Suffolk Street
London
SE1 0BB
United Kingdom
Is this a virtual event?
Yes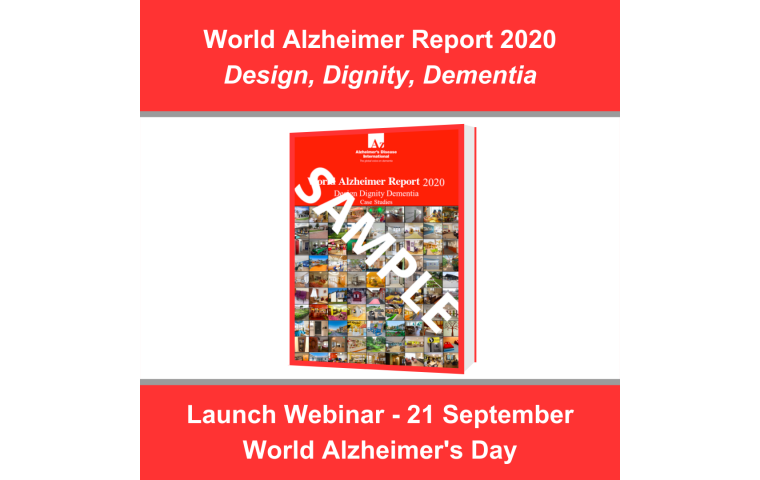 The World Alzheimer Report 2020 'Design, dignity and dementia' focussing on dementia and the built environment - design at home, in care homes, day care centres, hospitals and public spaces - will be released on World Alzheimer's Day, Monday 21 September at 13:00 BST.
ADI is delighted to invite you to a special launch webinar:
Design, Dignity, Dementia:
World Alzheimer's Day Report Launch Webinar
The webinar will be hosted by ADI's Chief Executive Paola Barbarino and will feature key expert speakers, including:
- Professor Richard Fleming, academic lead, who will launch the report and focus on principles, global context and recommendations.
- John Zeisel, report co-lead, who will focus on innovators in dementia design, making reference to history and experimentation.
- Kirsty Bennett, report co-lead, with a focus on the cultural aspects of designing for dementia.
- Kevin Charras, dementia advocate, who will speak on design, disability rights and the inclusion of the voice of people living with dementia in design development.
- Wilhelmina Hoffman, M.D., Principal and CEO of Silviahemmet, who will explain the the SilviaBo approach, working with IKEA, and Skanska (BoKlok).
- Dr. Ishtar Govia, STRiDE Jamaica, who will focus on low- and middle-income countries, and challenges, barriers, facilitators to incorporating dementia design.
- Dr Alison Dawson, University of Stirling, who will outline lessons from the COVID-19 pandemic and the impact on dementia design.
Find out more and register at: https://zoom.us/webinar/register/WN_FvrdLB7gRnaSi1IXDih5mA