Organiser
Healthy Caribbean Coalition
Location
PLEASE NOTE THE THE CAMPAIGN IS CARIBBEAN REGION WIDE - COVERING ALL OF CARICOM
St. Michael,
Barbados
Is this a virtual event?
Yes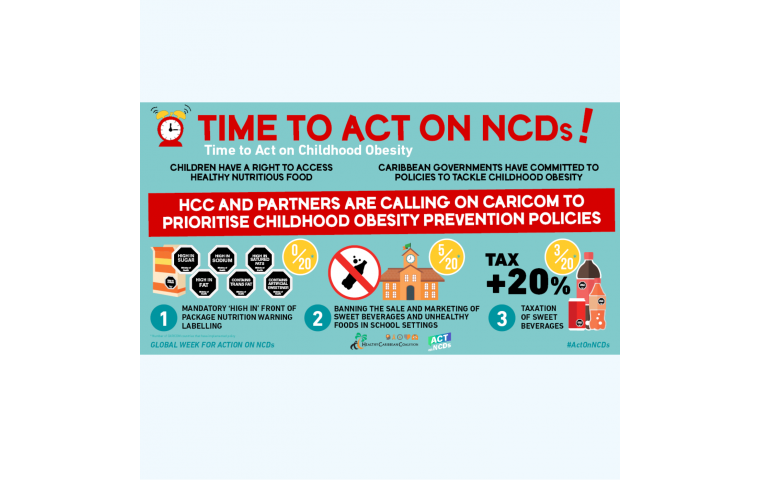 The Healthy Caribbean Coalition (HCC) and the CSO Childhood Obesity Prevention Action Team are joining forces during this Global Week of Action 2020 - this week of Accountability - to call on CARICOM Governments to fulfil their commitments to tackle childhood obesity in the Caribbean.
Time to Act on NCDs - Time to Act on Childhood Obesity - a regional week-long digital campaign - reaffirms Caribbean Civil Society's 2019 Call to Urgent Action for the Caribbean Region to Accelerate Nutrition Policies for the Creation of Healthy Environments for Caribbean Children and to address the epidemic of overweight and obesity among Caribbean children (https://www.healthycaribbean.org/call-to-urgent-action/).
The campaign uses the voices of the regional civil society leadership to refocus policymakers on the three policy priorities as set out in the Urgent Call to Action: mandatory Front of Package Nutrition Warning Labelling (FOPL) to empower consumers to make healthier food choices; banning the sale and marketing of sweet beverages and unhealthy foods in school settings and ensuring the availability of free drinking water to reduce the consumption of these beverages; and taxation of sweet beverages of at least 20% to reduce the consumption of these beverages among children.
Each day will draw attention to one of these policies - highlighting successes, gaps and areas for accelerated action. During this 2020 Global Week of Action, Caribbean civil society organisations, will collectively engage with diverse stakeholders across the region. to push this message of accountability and action - urging our leadership that the
Time to Act on Childhood Obesity is now.