August 24, 2020
Inspired by the new visual and graphic identity of the Week for Action (W4A)  that invokes movement and momentum, NCDA has launched a playful challenge encouraging physical activity during the W4A! GPS drawing is a technique of using a GPS device to follow a pre-planned route and create a large-scale picture/text on a map.
Image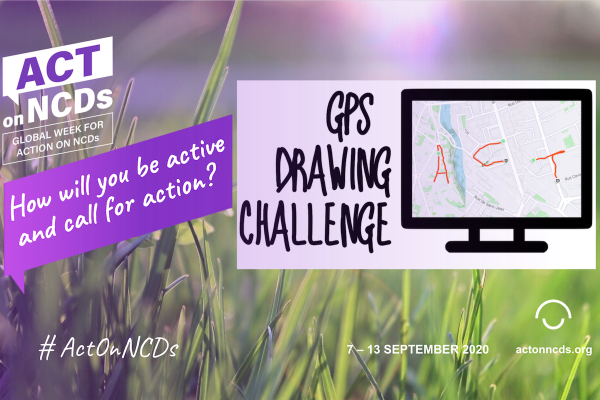 The GPS Drawing Challenge aims to call for action and unity and to encourage physical activity while being inclusive: there are no requirements regarding the sport, pace and distance to cover, and it can be done in collaboration while maintaining local social distancing requirements.
The challenge will encourage NCD community members to use the GPS function of their mobile phone to write a message they want to communicate for the W4A on a map.
This challenge can be done alone or with a team as part of a collaborative effort during the W4A.
For instance, it can be done between participants from different countries and regions, uniting their voices to #ActOnNCDs (e.g. each teammate could be in charge of "drawing" one letter of a message and you could share it together).
For more detailed information you can explore the 'how to' guide English, Français, Española.
Quick 5-step guide for the GPS Drawing Challenge:
Download a GPS app: You can use a basic free GPS activity tracking app (e.g. RunKeeper, Fitbit, Strava, Runtastic). You will need to ensure you give permission to the app to track your GPS location while you are using the app. Once it's set up on your phone, you're good to go!
Choose your message: As an example, you can use or add a part (like "ACT") or the whole official hashtag of the W4A "#ActOnNCDs" in your message. If you do a team message, you might like to each adopt a letter to spell out your organisation's name in addition to Act On NCDs!
Choose your canvas: You can go to the nearest large open area (a public square, sports field, etc.) or carefully study the map of your local area to sketch out your exact route online.
Go out and "draw": Launch your preferred GPS activity tracking app and start moving – walk, roll, ride, run – to draw your message!
Share with us! Post your GPS drawings and messages on social media (Twitter, Facebook, Instagram, Snapchat, LinkedIn) using the campaign hashtag #ActOnNCDs.