Accountability in the availability and access to essential NCD services, a tile for Universal Health Coverage
RNCDA will join efforts in the Global Week for Action on NCDs that will be marked by exceptional activities entitled Media outreach.
Kicking-off the week, we planned to engage young healthcare professionals, NCDs advocates, PLWNCDs to amplify and promote #ActOnNCDs. They will all be using digital communication platforms to spotlight and explain NCDs and COVID-19 impacts. This opportunity will be caught and used to foreground the need for the government to take actions.
Following that, there will be planned daily interview to convene media and one PLWNCDs, NCD advocates, NCD experts, civil societies working on NCDs and other potential stakeholders. Media will be given sufficient time to ask curious questions on the coalition for accountability and access to NCD care. For their preparedness, they will be provided with a press release. Media will be rendered the content to feature articles and broadcasts. The coverage including videos, photos and recordings, will be used as evidence-based advocacy and communication.
Thenceforth, we will host Livestream debate which will gather NCD advocates, NCD experts, government officials, PLWNCDs, partners and civil societies working on NCDs to discuss the government commitments for accessibility to NCD Care, their progress and the need for the government to scale up the implementation. This will be the time for PLWNCDs to address the impacts of NCDs and COVID-19 and also speak out their wishes as to what the government should prioritize while acting on NCDs. This is an occasion to reach a big number of diverse categories hence leave space for discussions in a short period of time.
Furthermore, highly listenable radio and viewable television selected to host NCD advocates, NCD experts and selected PLWNCDs. Media platforms are considered as advocacy channels. Hence, there will be the dissemination of frequent priorities that need further advancement by the government.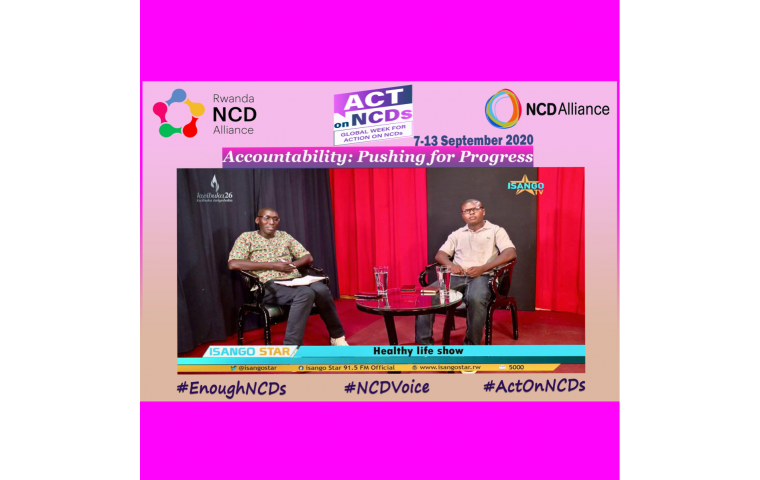 Rwanda Noncommunicable Diseases Alliance (RNCDA)

KN8 Ave, No. 175
Kigali
Rwanda