Global Consultation of People Living with NCDs - online until 25 October
NCDA is undertaking a comprehensive online consultation of people living with NCDs (PLWNCDs) in 2020 to gain insight into the impacts of COVID-19 on PLWNCDs to inform and strengthen advocacy efforts calling for the meaningful involvement of PLWNCDs and Build Back Better.
The consultation survey is open to PLWNCDs, i.e. people with personal lived experiences of NCDs as well as those with active care partner experiences, and will be live throughout the Global Week for Action on NCDs. The survey is available in English, French and Spanish, and open until 25 October 2020.
The consultation aims to:
Gather insights and perspectives of PLWNCDs on COVID-19 disruptions and impacts to NCD treatment, support and care, prevention, and social justice and human rights;
Identify PLWNCDs' areas of priority action to ensure that first-hand lived experiences are shaping efforts to Build Back Better;
Inform a Global Charter on the meaningful involvement of PLWNCDs that stakeholders can endorse and ensure a stronger NCD response.
Can you spare 15 minutes to share your lived experiences and help shape an NCD-sensitive response to COVID-19?
Find the survey here in English, French and Spanish.
We hope that the NCD movement and those joining this consultation will 'pass it on' to gather many diverse perspectives from far and wide. Please share the survey information through your social networks, tagging social media posts with #NCDvoices, #COVID19 and #ActOnNCDs.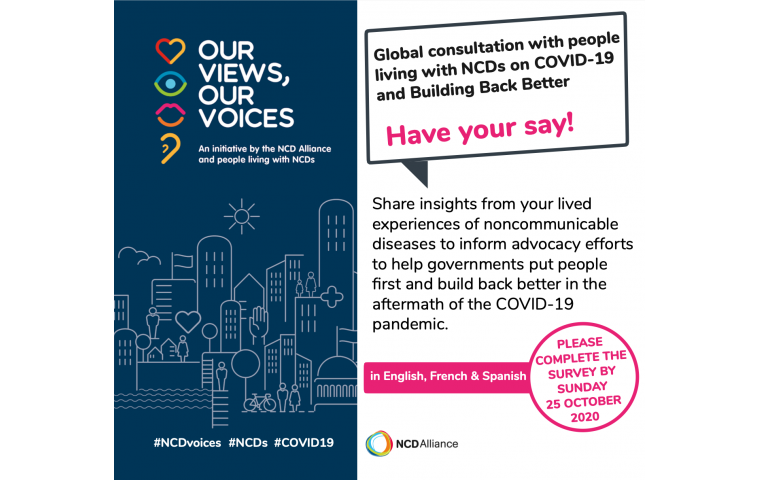 31-33 Avenue Giuseppe Motta
1202 Geneva
Switzerland