Non Communicable Diseases: Prevent it and Save LIves
We conduct a joint lecture between Universitas Airlangga located in Surabaya, Indonesia and University Technologi Mara (UiTM) located in Kuala Lumpur Mapaysia. The title of the lecture is "Non Communicable Diseases: Prevent it and Save Lives. The lecture dilivered virtually or online. The title of the lecture are:
1. Cervical cancer : Risk Factors & Preventive Mesures delivered by Dr. Santi Martini (Universitas Airlangga)
2. Exercise and Obesity deleivered by Mr. Moh. Hafiz bi Abu Seman (UiTM)
Students who joined the lecture coming from Universitas Airlangga (190 persons) and UiTM (190). Then the facilitators from Unair 8 persons and UiTM also 8 persons.
After lecturing, students divided into 16 groups and each group consisted of 10 persons, half from each University.
The objectives of this activity are:
1. to educate students about NCDs and one of those diseases is cervical cancer.
2. to share current preventives measures to cervical cancer.
3. to explain more detailed preventive measures for the diseases, such as in Indonesia and Malaysia.
4. to share about exercises and obesity as common risk factors for NCDs and how to handle it.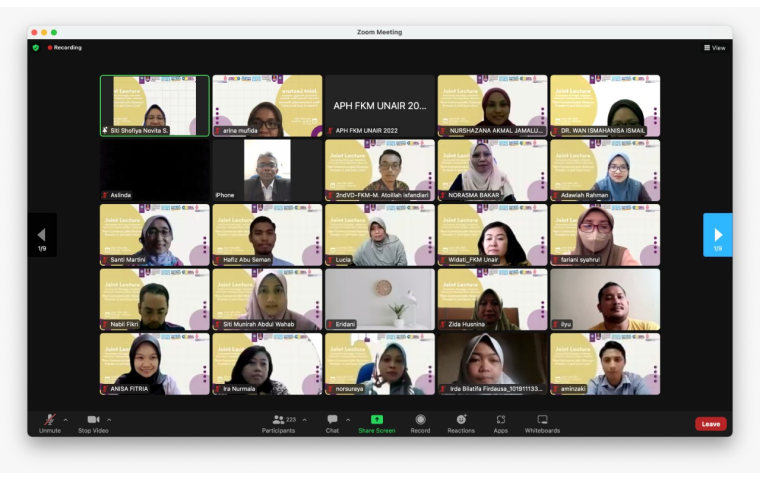 Faculty of Piblic Health Universitas Airlangga

Mulyorejo street
Surabaya
Jawa Timur 60111
Indonesia