Online Policy Brief Launch: Integrating eye health into the NCD response
The Fred Hollows Foundation & the NCD Alliance are delighted to launch a new policy brief which explores the impact of eye health conditions in society and health systems, and aims to identify key challenges and cost-effective solutions for the integration of eye care into health services. Some of the most common eye health conditions are noncommunicable diseases (NCDs).
Globally, 41 million people die every year because of NCDs and at least 2.2 billion people live with vision impairment or blindness. One billion of those have a vision impairment or blindness that could have been prevented or treated. The COVID-19 pandemic has demonstrated that healthcare services and strong health systems cannot be built overnight, and that governments must respond quickly to the growing burden of NCDs and multi-morbidity, and the need for better integrated care packages.
If no further action is taken, it is estimated that the global burden of blindness will triple by 2050, and up to half of the world's population will live with some form of vision impairment. This policy brief stresses the significant contribution of eye health conditions to the global NCD morbidity burden and explores the complex relationship between eye health conditions and other NCDs, including co-morbidities, common risk factors, social determinants, and the care gap created by the absence of integrated people-centred solutions.
Join us on Thursday, 10th September at 12:00 – 12:45 BST to hear from three experts who will discuss why this policy brief was developed, how it can be used and why it is so timely – particularly during the Covid-19 pandemic for an inspirational conversation around the enormous impact of restoring someone's sight. Learn how you can get involved – It's not to be missed!
Panellists:
Brandon Ah Tong – Head of Advocacy, The Fred Hollows Foundation
Dr. Ciku Mathenge – Director of Training and Research Rwanda International Institute of Ophthalmology and Medical Advisor for Africa, Orbis International
Tolulope Osigbesan – Advocacy and Partnerships Officer, NCD Alliance
Louisa Syrett – Global Advocacy Advisor, The Fred Hollows Foundation (Host)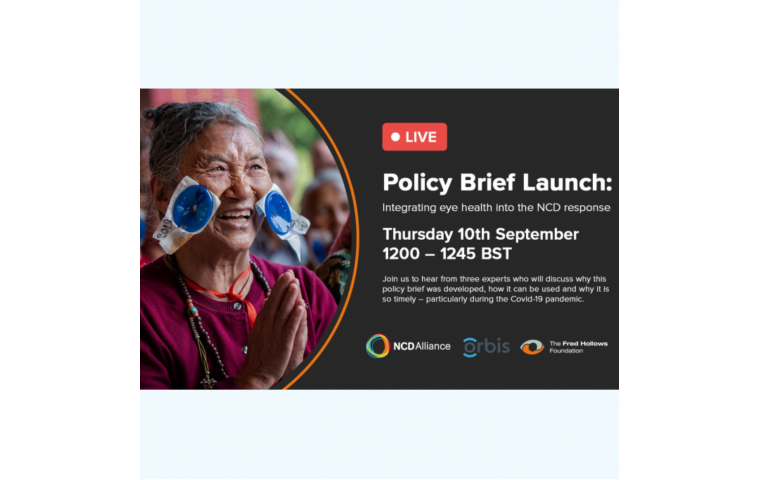 The Fred Hollows Foundation, Orbis International and NCD Alliance

61 Dunning Ave
Rosebery NSW 2018
Australia