Stroke Prevention Campaign
Dr. Bindu Menon Foundation
Dr. Bindu Menon Foundation launched a new campaign targeted to Stroke
Prevention. A face book page ''Stroke Prevention Campaign" https://www.facebook.com/StrokePreventionCampaign has been
created.
The campaign will be targeting on a single risk factor for stroke
every month. They are several preventable risk factors of stroke and it
essential to address each individual risk factors to have a better reach to
the public.
The 12-month Stroke Prevention Campaign will be targeting on
hypertension, diabetes, smoking, alcohol, diet, exercises, cardiac disease,
obstructive sleep apnea, air pollution, stress and specific causes in women.
July month was dedicated to Hypertension, A "Check your blood Pressure
Campaign" was held. Public awareness speeches in the hospital premises,
video awareness on the social media sites and Stroke Prevention Campaign
about hypertension, home monitoring methods.
A convenient sampling was done for caregivers and bystanders who
attended the neurology outpatient department. A total of 726 patients were
checked for their blood pressure. A total of 7.1% of new hypertension
were detected. Patients were counselled and given medical advice.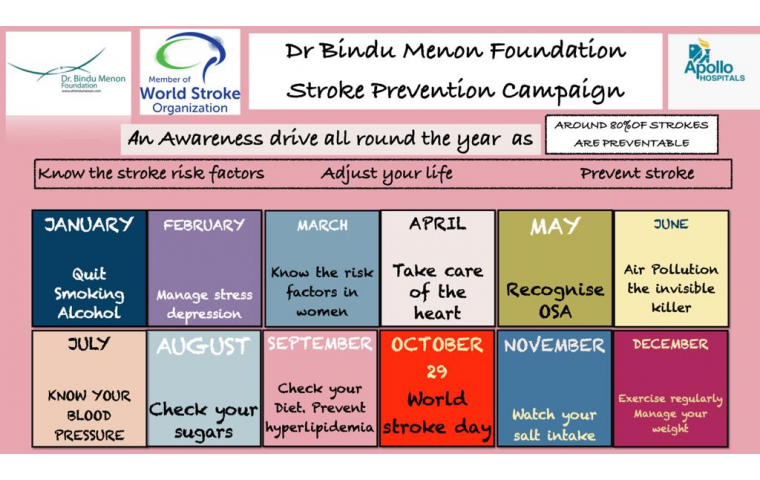 Dr. Bindu Menon Foundation

16-7-129 axon neuro and rehab care behind joyaluukas mini byepass road
Nellore 524003
Andhra Pradesh
India