Virtual Launch Event: Global Trans Fat Elimination 2020
WHO and Resolve to Save Lives invite you to the high-level launch event of the 2nd progress report on global trans fat elimination on 9 September 2020.
Since 2018, the World Health Organization has been raising awareness and supporting countries to eliminate industrially produced trans fats by 2023 through the REPLACE action package and tracking global elimination progress over time. Increased intake of trans fat (>1% of total energy intake) is associated with increased risk of heart disease. Trans fat intake is responsible for more than 500,000 premature deaths worldwide from heart disease each year.
The 2020 report on global trans fat elimination will highlight the current global, regional and national situation and progress over the past year; and discuss challenges and opportunities for future action. 
Speakers will include:
Dr Tedros Adhanom Ghebreyesus, Director-General, WHO
Dr Thomas Frieden, President & CEO, Resolve to Save Lives, an initiative of Vital Strategies
Dr Francesco Branca, Director, Department of Nutrition and Food Safety, WHO
Dr Chizuru Nishida, Unit Head, Safe, Healthy and Sustainable Diet, Department of Nutrition and Food Safety, WHO
Date/time: Wednesday, 9 September 2020, at 15:00 – 16:00 CEST
Please register in advance at: https://who.zoom.us/webinar/register/WN_AatdfZidSO2pS1jL6lQ5yw
After registering, you will receive a confirmation email containing information about joining the webinar.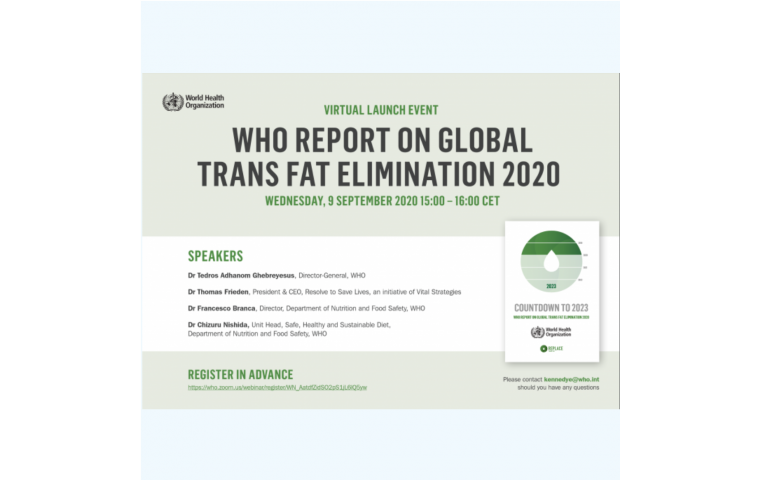 WHO, Resolve to Save Lives

Avenue Appia 20
1202 Geneva
Switzerland