Webinar: Advocating for Obstetricians and Gynecologists to Think Nutrition and Weight First, at Every Contact for the Prevention of Non-Communicable Diseases in Mothers and their Children
VIRTUAL ONLINE EVENT: REGISTER HERE
The International Federation of Gynaecology and Obstetrics (FIGO) Pregnancy Obesity and Nutrition Initiative (PONI) was launched in 2019. The PONI is a further step in the work of the FIGO Pregnancy and Non-communicable Disease Committee (PNCDC) to highlight the importance of nutrition and weight for women globally.
The aims of the PONI are:
• Provide key messages relating to the importance of tackling malnutrition and obesity before, during, and after pregnancy to improve the long-term health of mothers, their children and future generations.
• Develop and disseminate evidence-based guidelines and other resources such as the FIGO Nutrition Checklist to support frontline workers to Think Nutrition and Weight First, at Every Contact.
• Ensure stakeholders – i.e. member societies, frontline health professionals, partner non-government organisations – understand the way in which they can make a difference.
• Provide publicity opportunities to increase uptake and implementation of PONI as a basis for further outreach and resource mobilisation for the PNCDC.
This webinar will introduce PONI and provide good clinical practice recommendations for obstetricians and gynaecologists on the topics of preconception health and obesity management. The webinar will also highlight a clinical practice tool developed in 2015 by members of the FIGO Adolescent, Preconception and Maternal Nutrition called the FIGO Nutrition Checklist. Finally we will have a panel discussion with Prof. Moshe Hod, the chair of the FIGO Pregnancy and Non-communicable disease committee and Dr. Ivonne Díaz Yamal , the chair of the FIGO Committee for Reproductive Medicine, Endocrinology and Infertility.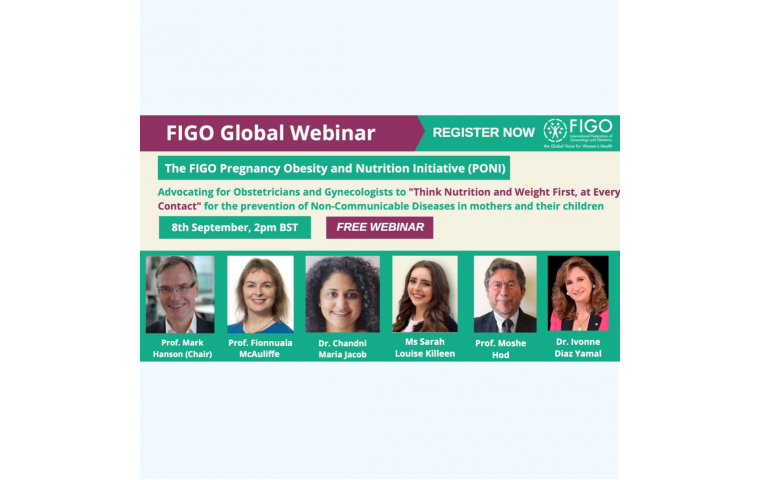 FIGO House, Suite 3, Waterloo Court, 10 Theed Street
London
SE1 8ST
United Kingdom