Youth Mental Health & NCDs - Accountability: Pushing for Progress
Calling all Young South Africans!
Join us on our very FIRST WHATSAPP WHAbinar in South Africa. We'll be discussing & engaging this year's theme for Global Week of Action on Non-Communicable Diseases.
On Friday, 11 Sept 2020 @ 14.00pm - 15.00pm SAST we will be talking ACCOUNTABILITY: PUSHING FOR PROGRESS!
In this session we will share videos, voice clips, images, tools and infographics from some of the most influential and inspiring people in NCD Advocacy, both locally and internationally. They will share their experiences and ways in which we can collectively keep governments accountable for young people's health and wellbeing.
We aim to have up to 250 young people on this Whatsapp Group, to get your perspectives, experiences and ideas on how you see accountability and how we as civil society can be agents for change.
PLEASE NOTE:
**LIMITED SPACES AVAILABLE
**FIRST REGISTERED, FIRST ADDED
**PREFERENCE TO YOUTH PARTICIPANTS
FROM SOUTH AFRICA
Looking forward to seeing you there!
Click the link below to RSVP before 10 September 2020. Login info will be sent to registered attendees ahead of time.
For more info on this year's global campaign: http://actonncds.org/en
Contact Chantelle Booysen at kznprojects@sadag.org for more info.
Click here to RSVP: https://forms.gle/S57sGvffgaQQcPQm6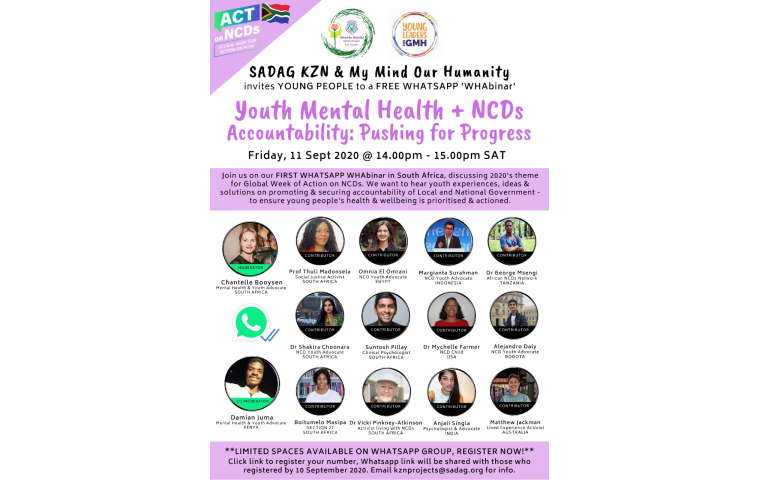 SADAG KZN & My Mind Our Humanity