September 16, 2020
From 7-13 September 2020, the third Global Week for Action on NCDs reached millions of people, thanks to thousands of NCD change-makers in more than 100 countries - including you - engaging in a week-long campaign online and in communities.
Imagen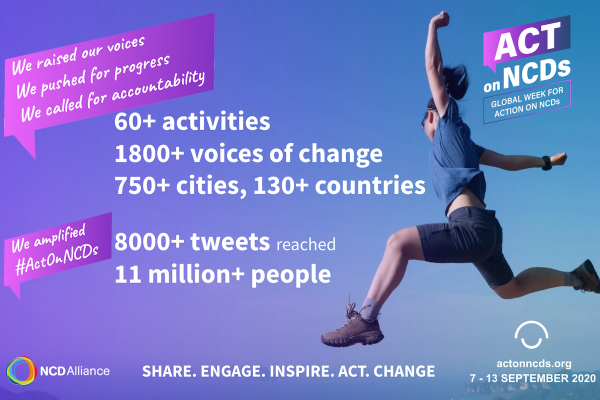 New energy, enormous momentum
More than 1,800 voices of change from around the world, in multiple language and countries were added to the Map of Impact - 10 times more people shared their messages through the website than in 2019! The movement also added more than 60 activities (many virtual) taking place during and around the Global Week for Action, including report launches, webinars and community engagements.
Inspired to be Innovative in midst of the COVID-19 pandemic
Given the more complex COVID-19 context and many locations living with physical distancing restrictions, the NCD movement were not deterred, mobilising safely in person and with many novel virtual campaigns and events. Individuals posted daily personal actions, information and perspectives to their social networks; organisations shared advocacy priorities through social media graphics, blogs, op-eds and videos; alliances shared links to images of their events and media engagement; advocates explored issues of accountability and NCD policy during podcasts; people living with NCDs and youth promoted their meaningful participation in (virtual) events and other health promoting activities; people got outside and got active drawing 'gps' letters and messages as they moved; WHO offices disseminated NCD-related health promotion campaigns and shared country action on NCDs through the NCD Stories from the Field.
Social media was abuzz 
The #ActOnNCDs campaign carried messages, voices, events, awareness to more people than ever before. On Twitter alone, #ActOnNCDs superseded the momentum of each of the first and second Weeks for Action (in 2018 and 2019) three-fold, reaching over 11 million people with more than 8,000 tweets from 2,300 contributors in over 100 countries. 
The NCD community were also actively engaging news media thanks to concerted efforts of many, good coverage of NCD / chronic disease related news was seen in dozens of media outlets - paper, digital, radio and television, with wide readership and visibility in Africa, Europe, Asia, and Latin America in particular. 
A handful of highlights
The World Health Organization hosted two media briefings on the eve of the Global Week for Action on NCDs, with the Director General, Dr Tedros, drawing attention to NCDs in the COVID-19 pandemic context, and the global awareness campaign calling for greater action on NCDs. The UN Interagency Task Force on NCDs also published a new guide on integrating NCDs into COVID-19 responses, and a corresponding brief outlining examples of actions being taken by members of the Task Force.
Also on the eve of the campaign, NCD Countdown 2030 reported that many countries remain off track to achieving SDG 3.4, outlining pathways to accelerate and achieving progress. 
Immediately following the Week, an important Lancet NCDs, Injuries and Poverty Commission report was launched. The report highlights the deficits of a long time focus on the big-5 NCDs and risk factors, and too-narrow definition of 'premature mortality', which has sidelined the experiences of the most poor and marginalised populations living with the challenges of less-recognised NCDs, across the lifecourse. The report sets out a set of effective and equitable responses in complement to the more commonly known NCD 'Best Buys' which address the needs of the world's poorest billion.      
A report published during the week by the NCD Alliance and Spectrum Research Consortium, Signalling Virtue, Promoting Harm documented hundreds of examples of how unhealthy commodity industries are leveraging the COVID-19 pandemic, while undermining efforts to protect and promote health.
During the Week for Action, NCD Alliance launched brand new social media tools for NCDs - including gifs and digital stickers, which were used by thousands across digital platforms raising awareness of NCDs and some of the key and common messages supporting calls for action. The gifs continue to be available by searching gif services for "NCDs". NCDA also launched a series of short videos, featuring advocates explaining accountability, emphasising the importance of putting people first in the NCD response, and the problems of industry interference in policy making. These bite-size videos should be watched and shared widely.
Please take five minutes to share feedback
We are keen to hear from you; If you can spare 5 minutes to provide feedback, you are invited to share through this rapid feedback form. All we ask is your location, your organisation name, one word that you think of when reflecting on your Global Week for Action activities, one or more highlights from your own campaign and activities, any feedback you might like to share with NCDA, and finally, a photo if you would like to share one. Feedback provided will help inform and improve the Global Week for Action on NCDs campaign in coming years. 
Leveraging momentum to move forward
While the third Global Week for Action on NCDs is behind us, the momentum continues to fuel action, both to bridge the accountability gap, and to act more broadly to deliver progress on NCDs and healthier lives for all. We look forward to sharing further overview of the week in a campaign report later this year. Meanwhile, please save the date - the fourth Global Week for Action on NCDs will take place in the first full week of September, 6-12 September 2021. The theme of the next Week for Action will be announced in coming months. 
Finally, a big thank you to everyone who supported and engaged in the 3rd Global Week for Action on NCDs - year on year, the movement gets stronger, and this year has been no exception. With COVID-19 catapulting NCDs into the headlines due to the impact on people living with NCDs, the world seems to be waking up to the need to take overdue action - and while overdue, the time to act on NCDs is most certainly now.