August 26, 2020
NCD Alliance has launched an online consultation on the impact of the COVID-19 pandemic on people living with NCDs and recommendations to Build Back Better. The consultation survey, part of the Our Views, Our Voices initiative, is available in English, French and Spanish, and will be open until 25th October 2020. 
Imagen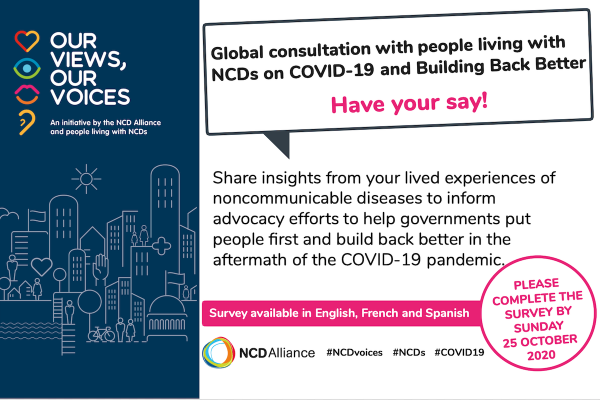 NCDA's consultation of people living with NCDs (PLWNCDs) will gain insight into the impacts of COVID-19 on PLWNCDs to inform and strengthen advocacy calling for meaningful involvement of PLWNCDs and Build Back Better.
The online consultation survey is open to PLWNCDs, i.e. people with personal lived experiences of NCDs as well as those with active care partner experiences, until 25 October.
Emerging evidence from COVID-19 shows many intersections between COVID-19 and NCDs, including that PLWNCDs and other chronic conditions are particularly vulnerable to severe or negative outcomes. In addition, PLWNCDs are likely to experience obstacles and additional strains in managing their conditions daily, due to health systems buckling under the pressure of COVID-19, physical distancing and stay-at-home measures.
The consultation aims to:
Gather insights and perspectives of PLWNCDs on COVID-19 disruptions and impacts to NCD treatment, support and care, prevention, and social justice and human rights;
Identify PLWNCDs' areas of priority action to ensure that first-hand lived experiences are shaping efforts to Build Back Better;
Inform a Global Charter on the meaningful involvement of PLWNCDs that stakeholders can endorse and ensure a stronger NCD response.
Can you spare 15 minutes to share your lived experiences and help shape an NCD-sensitive response to COVID-19?
> Access the survey in English, French and Spanish.
Perspectives and first-hand views of PLWNCDs and directly impacted by the challenges and disruptions created by COVID-19 around prevention, early diagnosis, screening, treatment, rehabilitation and palliation are important. These lived experiences of PLWNCDs' must inform efforts looking to learn from the COVID-19 pandemic, ensuring governments are protecting people's ability to lead healthy lives and strengthening health systems to better prevent, diagnose and care for NCDs in the future.
There is an opportunity to mobilise and unify stakeholders in recognising the importance of meaningful involvement of people living with NCDs and how all can play a part.
We hope that the NCD movement and those joining this consultation will 'pass it on' to gather many diverse perspectives from far and wide. Please share the survey information through your social networks, tagging social media posts with #NCDvoices, #COVID19 and #ActOnNCDs.