Image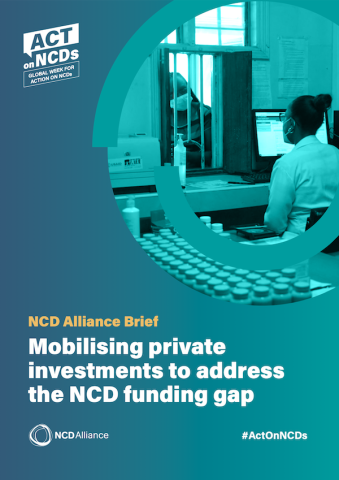 NCDs are the most underfunded global health issue relative to the billions of people impacted. 41 million people die every year due to an NCD, accounting for 74% of all deaths worldwide, and annual deaths from NCDs are projected to escalate to 52 million by 2030.
NCDs also reduce productivity and human capital, while increasing healthcare costs from serious illness, disability and death. In total, the five leading NCDs – cardiovascular disease, chronic respiratory disease, cancer, diabetes and mental health and neurological disorders – have been estimated to cost US$ 47 trillion between 2011-2030, an average of more than US$ 2 trillion per year.
Given the scale of the challenge, action will be needed on many fronts to mobilise adequate, predictable and sustainable financing for NCDs. This brief, 'Mobilising private investments to address the NCD funding gap', seeks to unpack solutions to accelerate private investments for NCD financing ahead of the Second Global Financing Dialogue on NCDs set to take place in 2023 and forthcoming UN General Assembly High-Level Meetings on Universal Health Coverage in 2023 and NCDs in 2025.
 
Image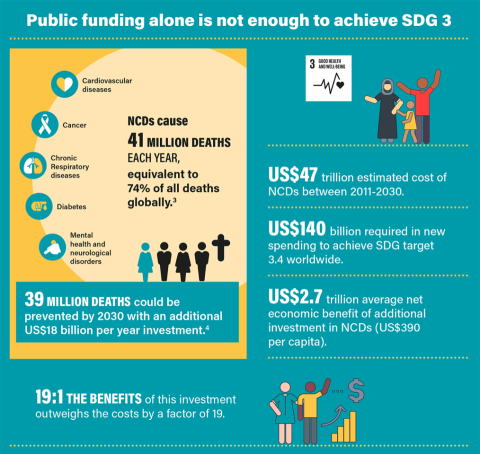 Drawing upon the broader policy brief 'Invest to Protect: NCD Financing as a foundation for healthy societies and economies', it is launched on the occasion of the 2022 Global Week for Action on NCDs, which focuses on NCD investment as a core theme. Here are some of the key questions answered by the brief:
How poorly funded are NCDs?
There is a fundamental mismatch between the healthcare needs and rights of people living with NCDs, particularly in low- and middle- income countries (LMICs), and the resources allocated to respond, with NCDs attracting less than 2% of overseas development aid for health. This number has stagnated since NCDs made it onto the global health agenda two decades ago, at the first UN High-Level Meeting on NCDs in 2011, where leaders agreed to explore the provision of adequate and sustained resources for NCDs. This is a commitment that has been reiterated over time but so far has not been fulfilled.
How much will governments need to invest?
To meet their political commitments on NCDs, it is imperative for governments to make substantial changes to achieve a more targeted and strategic approach to NCD investment. We need a new perspective, reaching far outside 'the box' of traditional funding sources, and to seek innovative sources and partnerships that include private sector and private philanthropies.
The Lancet NCD Countdown 2030 estimates that achieving SDG target 3.4 worldwide would require US$140 billion in new spending over 2023–30, an average of $18 billion annually, but 39 million deaths could be averted over this period and $2.7 trillion in net economic benefits could be generated, with benefits outweighing costs 19-to-1. However, public funding alone will not be enough to achieve these targets - and the private sector can play a significant role in meeting them.
How can the private sector play a role in NCD investment?
There are four main pathways that can be explored to increase private investment and leverage the private sector's contribution to mobilise resources for NCDs:
Public-private partnerships
Blended finance mechanisms
Socially-responsible and environment, social and governance investments
Impact investing
Unhealthy commodity industries - like tobacco, alcohol, ultra-processed food, and fossil fuels - have vested interests that are at odds with public health interests, and their interference in global and national policy development to promote health and prevent NCDs is well-documented. While they must be excluded from any public-private partnerships for health, there remains significant opportunity and value in developing partnerships that represent low or no risk for conflict of interest and serve to benefit the goals of the NCD agenda across a range of sectors and industries.
Download the full brief to learn more!