September 1, 2020
For the first time NCDs have their own GIFs, stickers and frames for you to download and include in your social media messaging. 
Imagen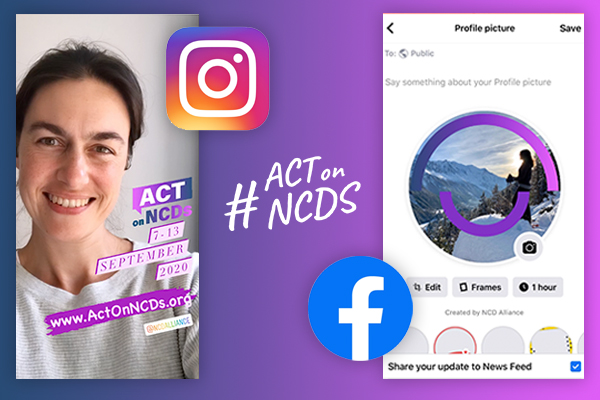 We're excited to share some brand new social media integrations to coincide with the Global Week for Action on NCDs - all you have to do is search for ActOnNCDs and they should magically appear!
Facebook frames
Are you on Facebook? You can now put a temporary and simple Week for Action on NCDs 'smile' icon frame around your profile photo. Tap on the camera icon over your profile photo, select 'add frame', and search 'NCD Alliance'. You can adjust how long you have this frame applied to your profile photo, and remove the frame easily at any time. 
GIFs
Until now, NCDs weren't really 'there' when you wanted to share short animated images otherwise known as GIFs. As part of our efforts to elevate awareness about NCDs, we have published a series of GIFs communicating some key messages about NCDs - such as that 70% of all deaths are from NCDs, they are a major development challenge, one of the most important public health challenges of this century, and NCDs can't be tackled by the health sector alone. Importantly - we need more action on NCDs! 
Furthermore, you can share GIFs showing your support of the Global Week for Action on NCDs. These logo GIFs are downloadable from the resources section of the website, and include multiple languages.To find these GIFs on internet platforms with 'GIF' integration - such as Twitter, Facebook, Snapchat, search for actonncds - and if you post on social media using the GIFs, please tag your posts with #ActOnNCDs as well!
Instagram Stickers
If you are on Instagram you can now add a Global Week for Action on NCDs logo sticker to your stories - simply tap on the 'sticker' icon or the 'search GIF' button, enter the search term actonncds in the search bar, and select which sticker/s you would like to attach to your story image or video.