September 9, 2020
Dr Paul Kowal, a global health consultant, explains how, in just three years, the programme hopes to help address the growth in NCDs in the South East Asia region. 
Imagen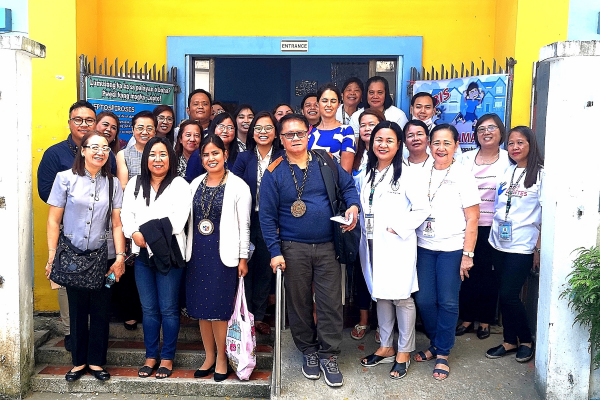 The high-profile launch in July 2020 of the Better Health campaign in the UK, led by the Prime Minister Boris Johnson, shone the spotlight on the public's growing understanding of the impact of obesity – and non-communicable diseases (NCDs) – on surviving infection with Covid-19.  Johnson, who became seriously ill with Covid-19, has since been trying to lose weight and wants others to follow his example.
Meanwhile, another important initiative by the UK Government is tackling the obesity and NCD time bomb, but on the international stage. 
The three-year Global Better Health Programme (BHP), part of the UK's Foreign, Commonwealth and Development Office's Prosperity Fund, covers 520 million adults living in eight partner countries: Brazil, Malaysia, Mexico, Myanmar, the Philippines, South Africa, Thailand, and Vietnam.
The global programme works through technical partnerships, including with the National Health Service (NHS) and academic institutions, to address not just obesity but other health risks such as hypertension and poverty, as well as specific NCDs like diabetes, heart disease and mental health issues. It also seeks to tackle the growing economic burden of NCDs and strengthening digital health systems. 
NCDs account for at least 69% of deaths in each of the five South East Asian (SEA) countries, reaching 79% in Vietnam, compared to 89% in the UK.
Yet government health budgets in middle income countries and development assistance for health to address NCDs do not come close to matching the burden. Just 1.8% (US$720 million) of global health-related development assistance in 2019 was directed to NCDs. Of these funds, just US$43 million went to South East Asia, where much of the cost of managing NCDs falls to individuals and families. 
Someone who gets ill in Thailand is relatively fortunate, as universal health coverage means out-of-pocket payments are relatively low, at just 11% of current total health expenditure in 2017 (lower than the UK at 16%). But without similar safety nets, out-of-pocket expenses reached 53% in the Philippines and 76% in Myanmar. 
The BHP has invested £79.3 million overall, including £22.1 million in SEA. The level of support from BHP has the potential to be transformative in the five SEA partner countries and across the region. BHP SEA will also bring benefits to the UK, through bidirectional learning opportunities, co-discovery and shared accountability on the part of both the provider and the donor for the quality of agreed deliverables. 
The BHP has begun investing in technical partnerships in five main areas that support: strategies to counter NCDs; digital health initiatives; education and training; provider performance improvement; and life sciences initiatives. BHP believes that prioritising health, particularly NCDs, is a recipe for economic growth. Recent estimates support this. Fewer chronic health conditions leading to expanded participation in the labour force worldwide could lead to an increase in global GDP by 8% (US$12 trillion). 
So far, significant first steps have been made in agreed areas of work, for example:
BHP Malaysia has developed a strategy to engage community health volunteers in low income neighbourhoods to address obesogenic environments. 
BHP Myanmar has progressed its review and revision of NCD-related curricula in medical, nursing, public health and community health universities. 
BHP Philippines (pictured) has begun developing diabetes, hypertension and mental health (particularly related to NCDxCOVID-19 interactions) continuing professional development courses to be offered through local learning networks. 
BHP Thailand has contributed to efforts on a new front-of-pack labelling scheme and social marketing to achieve population salt intake reduction.
BHP Vietnam is actively addressing its digital health ecosystem to improve its evidence on NCDs to inform policy, marked by the high-profile signing of the Memorandum of Understanding between the UK and Vietnam governments in July. (See here) 
Addressing NCDs has the potential to help mitigate the economic challenges posed by Covid-19 in the BHP South East Asia partner countries. While the primary objectives of BHP remain focused on improving NCD-related population health and strengthening health systems, there is clear intention within BHP to explore possibilities that may lead to benefits for international organisations and business (including in the UK). These include institution-to-institution relationships and engagements with the Department of International Trade, the NHS and its arms-length bodies, universities and digital health companies. 
All parties are keen to explore and realise these secondary benefits while acknowledging we've had enough and are working together to #ActOnNCDs.
Click here for more information on the Global Health Programme
Photo: The Better Health Programme in the Philippines and representatives from the UK embassy visit Barangay Health Station Mental Health Service Providers. (Photo credit: Rogelio Ilagan)