THIS BLOG FROM MOVENDI INTERNATIONAL IS PART OF OUR MEMBER-AUTHORED SERIES ON NCD INVESTMENT.
We all want to live healthy lives. We want our families and communities to be healthy and thriving. But non-communicable diseases and their risk factors are increasingly cutting people's lives short and reducing quality of life for billions of people. NCDs and risk factors such as alcohol are driven by multinational companies that make windfall profits from health-harming commodities. Regulating these industries, such as Big Alcohol, means protecting people from cancer, heart disease, mental ill-health, and other NCDs. And governments have powerful tools at their disposal to prevent and reduce alcohol harm and generate resources for NCDs prevention and control.
The coronavirus pandemic showed how high people value their health and how much we need better functioning, more resilient health systems. The pandemic also brought into focus the heavy burden alcohol harm puts on health systems.
Alcohol: a heavy but often neglected burden
On average, alcohol contributes to 20% of injuries and 11.5% of all non-injury emergency department presentations. Countries that declared alcohol 'essential' saw greater numbers of other alcohol-related illnesses and injuries and a growing burden on the health system. But countries that implemented evidence-based alcohol policy solutions saw specific reductions in emergency room and hospital admissions over and above the effects of lockdowns.
This is an important lesson from the pandemic: investing in NCD prevention through tackling risk factors such as alcohol protects the health of people, eases the burden on the healthcare system, and frees up resources for the health emergency response. Nevertheless, countries have not done a good job of translating evidence into action. Only a few countries are implementing the alcohol policy best buys comprehensively. Most countries, especially low- and middle-income countries (LMICs), have NOT implemented a comprehensive set of alcohol policies. For instance, no low-income country has reported increasing resources for implementing alcohol policy solutions in the last decade.
This persisting alcohol policy inaction comes at a steep price. A recent worldwide overview showed that the economic costs of harm due to alcohol amount to over $1300 per adult, or 2.6% of the GDP. About one-third of costs (38.8%) were incurred through direct costs, while the majority of costs were due to losses in productivity (61.2%). We developed a Special Feature about the economic harm due to the products and practices of the alcohol industry in OECD countries, as well as in low- and middle-income countries, such as Sri Lanka and India.
A triple-win solution
But there's a powerful solution available. "Powerful" is actually an understatement to describe the potential of this alcohol policy solution. Triple-win is more fitting: alcohol taxation helps prevent and reduce alcohol harm; it helps make communities and societies healthier; and it yields substantial returns for governments from the revenue that is generated, from the costs that are saved and from the productivity gains.
The three alcohol policy best buys are the second best set of options among all 16 NCD Best Buys, regarding the return on investment. Investing US$1 in the implementation of the three alcohol policy Best Buys generates a return on investment of more than US$8 – according to a WHO analysis.
That is why Movendi International has launched a special initiative to partner with governments, civil society, and the UN system to advance public health centered alcohol excise taxation. We call it the Center for Alcohol Policy Solutions (CAPS).
The first country we are working together with is Sri Lanka and more are to come. As alcohol consumption is projected to rise in LMICs, due to aggressive alcohol industry strategies across low- and middle-income countries, the costs due to harm will rise and the burden of alcohol harm, such as cancer, heart disease, liver disease, addiction, and other mental health conditions will rise as well.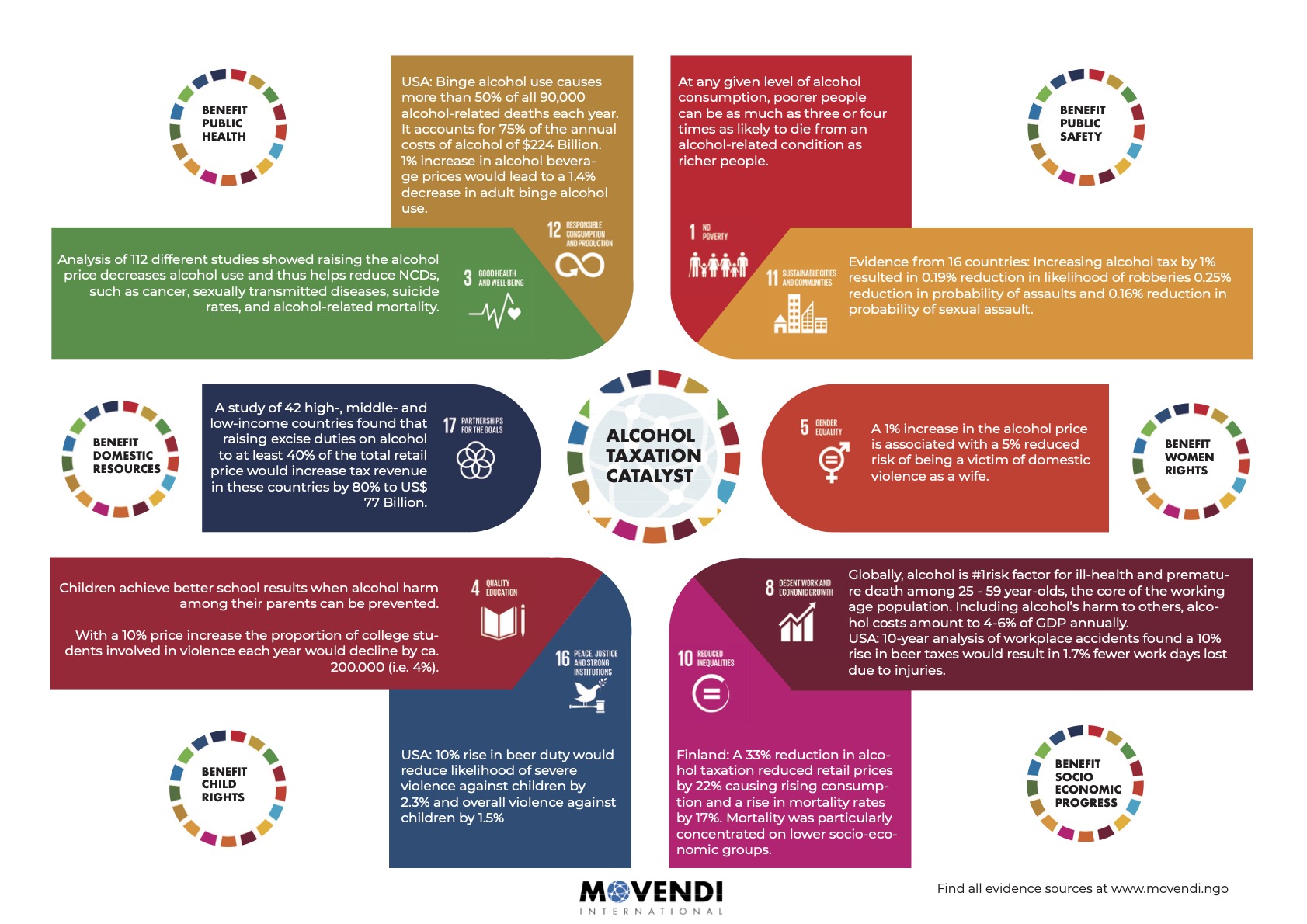 Click to open bigger image.
In the example of alcohol taxation, we clearly see the potential of investing in NCD best buys and the benefits to people, communities, health systems, domestic resource mobilization, and even national sustainable development overall. Countries like the Philippines and Thailand can afford universal health coverage programs and world class health promotion efforts thanks to alcohol and tobacco taxes. And the potential for African countries to use alcohol taxation for disease prevention, health promotion, and development facilitation is even bigger.
Investing in alcohol taxation means unlocking the potential of people and communities and generating much needed resources to achieve health and development for all.
About the author
Maik Dünnbier is Director of Strategy and Advocacy at Movendi International. He has an academic background in political science, philosophy, and history of ideas as well as global development from Dresden University in Germany and Stockholm University in Sweden. Maik leads Movendi International's advocacy work on global and regional level, including the engagement with the UN system. Maik develops the strategic approach to advancing comprehensive alcohol policy solutions to support countries in achieving the Sustainable Development Goals.